Subscribe to Next Week
in Gary E-Newsletter
Did you know you can subscribe to City of Gary's Next Week in Gary E-Newsletter by visiting www.TeamGaryIndiana.com or completing this online form?

Submit your Gary Events
& News Online
---
---
ANNOUNCEMENTS
CITY ANNOUNCES 2018-19 WARMING CENTERS
---
Good News Gary - Check out the latest edition!
---
MAYOR ADDRESSES FINANCIAL CHALLENGES AND AUDIT FINDINGS
---
Toys For Kids Santa Forgot
---
PUBLIC SAFETY NOTICE
INDOT Closes I-65 Southbound Ramp in Gary
---
MAYOR'S NATIONAL LEAGUE OF CITIES LEADERSHIP ROLE INTRODUCES OPPORTUNITIES FOR GARY
---
Why Housing is Key to Loving Your City - NLC President Karen Freeman-Wilson Announces National Housing Task Force
---
City of Gary - Gary Show Force
---
A "CELEBRATION OF ENTRPRENEURS" GARY CELEBRATES GRADUATES OF GARY MICRO-ENTERPRISE PROGRAM
---
GARY FIRE DEPARTMENT LOCAL 359 COAT, HAT, AND GLOVES DRIVE -
JOIN US IN HELPING TO KEEP FAMILIES WARM!!!!
Note: Fire Department Coat Drive is in effect; ends Dec. 17 - Location: Drop off at any Gary Fire Station
---
Gary's 'homecoming' taps into expat energy
---
Urban league of NWI
Support Our Outreach and Services!
Click here to learn more.
Donate via Text!
---
GARY HOUSING AUTHORITY KICKS OFF DEMOLITION AT DELANEY WEST AND CONCORD VILLAGE
---
Gary Infrastructure Projects | Fall 2018
---
FREE FLU VACCINE CITY OF GARY RESIDENTS FLU SEASON IS HERE GET PROTECTED NOW!
---
Fish Fry Fundraiser | Every 1st Friday Of Each Month | 11AM-5PM
---
The Hope Center - Can we talk?
---
MAYOR'S YOUTH COUNCIL PARTICPATE IN AIM YOUTH DAY OF SERVICE
---
GARY'S FINANCIAL PLAN
---
What you should know about the City of Gary's Financial Recovery and the Sale Leaseback
---
City of Gary Public Works | Projects Under Construction
---
U.S. Steel's $750 Million Investment - What's in it for Gary?
Click here to view the Mayor's US Steel letter.
---
Community Development | $1 Dollar Home Program
---
Cities of Services Engaged Cities Summit
---
MAYOR REVIEWS GARY'S PROGRESS
---
Mayor signs Census letter.
---
Attention Gary Business Owners!
Mayor Freeman-Wilson seeks your input on improving Gary's business climate.
Take the Gary Business Community Survey today.
---
First Time
Home Buyers Program
Gary, Indiana
---
Attention Gary Business Owners!
Please be reminded of the recently enacted City Ordinance Chapter163 Section 123-193(c)(4)(k) & (l). After a study of criminal activity within the city limits, the City of Gary and the Gary Common Council passed this ordinance to deter, prevent, and help solve crimes that frequently occur near businesses that operate at night.
To view the full ordinance, click here.
---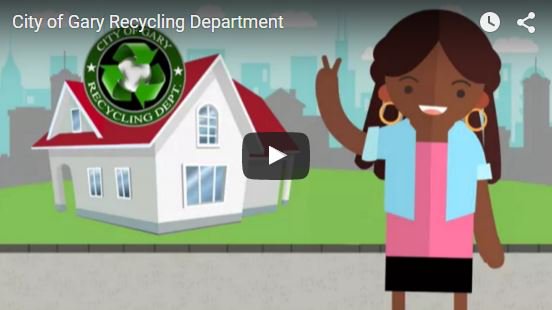 Click Here to view the video and learn more about the City of Gary's Recycling Department.
---
Gary Recycling Department Shredding
Please join Mayor Karen Freeman-Wilson & the City of Gary Recycling Department as we SHRED one document at a time.

Where: City of Gary Recycling Department
When: Wednesdays and Fridays
Time: 8AM - 2PM

Please remove all: paper clips, binders, and staples

Recycling Department
Location: 900 Madison Gary, IN 46402
Phone: (219) 882-8445
---
Pet Food Added to Local Pantry
Every 3rd Saturday of the Month, St. Ann Parish located @ 6025 West 25th Avenue will include pet food to the local food pantry. Pantry participants must follow standard food pantry qualifications. Pantry hours
---
Pet Assistance Program
Cause 4Paws Gary, INC. has launched a pet assistance services for struggling Gary residents. Our programs offer Pet Food Assistance, Spay/Neuter/Vaccination & Microchip service for small dogs and cats. Trap, Neuter & Manage assistance for feral cat caregivers.
Online application required. Certain restrictions apply.
---
JOB OPPORTUNITIES
Contact Gary for Jobs/Workforce Development
---
DID YOU KNOW?
Illegal Dumping and Littering Is Against the Law!
Gary Municipal Codes: 18-228B Dumping on Public or Private Property
Don't Dump Illegally-Don't Risk Being Arrested!
Illegal Dumping not only affects our Community, but our Environment and our Public Health.
Citizens may:
Call 219-660-0000 to report illegal dumping in progress
Call 219-881-1311 to report dump sites in the city of Gary
---
COMMUNITY
Hudson Campbell Sports & Fitness Center Weekly Class Schedule
Click here to view weekly class schedule. Call (219) 886-2814 for class prices or more information.
---
Click here to view the program schedule.
---
New Process for submitting to Next Week in Gary
The community may now submit events and news briefs for consideration for placement into the City of Gary's Next Week in Gary E-Newsletter and social media channels via an online submission form at TeamGaryIndiana.com.
Only submissions sent via the online form will be considered. All submissions are moderated by the City of Gary Department of Communications.